WebRTC & SIP PBX Companion
Integrating WebRTC Into the Enterprise SIP-Based UC Solution Infrastructure
WebRTC is real-time communication, voice, video and data between Web browsers. It is used in various ways when connected to the Web, e.g. when both parties are logged into the same web site or when passing a link to the other party to establish a WebRTC call. However, all of this is separate from the enterprise PBX or UC solution, if not ingrated by a gateway that we call the WebRTC & SIP PBX Companion. The PBX Companion interfaces to SIP Trunk interface on one side and to the Web world on the other side.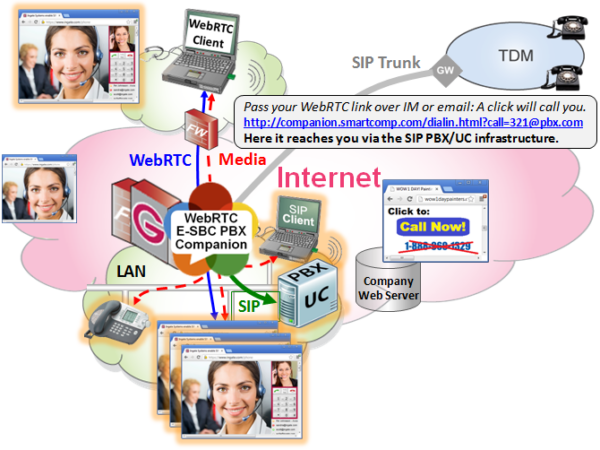 The PBX Companion adds these WebRTC features to your PBX or UC Solution:
The Web browser as the PBX soft client
The Web browser for remote users
Click on the company web site to dial in
Pass a link to persons for joining a call
The WebRTC Browser as a Softphone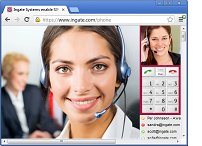 It is dream, to have the PBX/UC Softphone available everywhere, on every device having a browser, without any plug-in and not just for plain voice phone calls, but potentially also for HiFi HD telepresence quality.
With the PBX Companion, the Softphone is just a JS Web application that is easy to customize and build. Any Web server may house Softphone application or the one included in the PBX Companion can be used. And a PBX without Video support gets it!
The WebRTC Browser for Road Warriors and Home Workers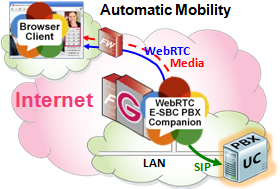 WebRTC is a secure communication method and it has its own NAT/firewall traversal method (ICE/TURN/STUN). That makes the WebRTC browser, the ideal remote client or telephone for the enterprise PBX or UC Solution.
With the PBX Companion at the enterprise edge, the JS Web Softphone application can be used both locally and remotely. Mobility that comes automatically!
WebRTC & SIP PBX Companion Test Site
http://webrtc.ingate.com is a live test site demonstrating some features and benefits that the Ingate WebRTC & SIP PBX Companion bring to the enterprise PBX or UC solution infrastructure.
Try out using Chrome (preferably):
Browser-to-browser HD video calls
Register as a remote WebRTC SIP client to Your[1] PBX!
Make SIP and PSTN calls (both ways; available anywhere) as you would with existing enterprise phones or soft clients.
Try click-to-call button for the company web site or call center
Copy and paste a link into an email or IM so people can call you at Your SIP address
Test including a link in a Webex-invitation for connecting to Your conference bridge
The WebRTC & SIP PBX Companion also includes Ingate's Q-TURN technology, enabling WebRTC's high-quality video and audio into the enterprise LAN (QoS), but that is not demonstrated at this test site.
[1] If Your existing enterprise PBX- or UC-solution allows standard SIP clients to be used from a public IP addresses, its resources now becomes available everywhere you can surf!
Presentations
Related Links
For PBX & UC Solution Vendors
See Also
Enables WebRTC traffic through restrictive enterprise firewalls
Prioritization and traffic shaping for high-quality voice and video
Diffserv or RVSP quality of service (QoS) over the network
Authentication, allowance to use the high-quality TURN path
Accounting, reporting usage of the high-quality TURN path